Call Now +91-98263-29163
T

hermic Fluid Heater - Oil and Gas Fired

"Thermotech" : Thermic Fluid Heater's are available in Horizontal & Vertical Models where in thermic fluid can be heated up to normal 340 oC at near atmospheric pressure with efficiency as high as 92% on GCV of Oil and Gas fuel.

Thermic Fluid Heater Capacity = 1 Lac Kcal/hr to 120 Lac Kcal/hr

Maximum Temperature = 370 Deg. C

Application:
Chemical, Textile, Technical Textile, MDF and Particle Board, Plywood and Laminates, Oil & Gas, Packaging, Rubber, Pharmaceuticals, Food Processing, Metal, etc...
Fuel to Handle : Furnace Oil, LDO, Diesel, N. Gas, LPG, Hydrogen, etc..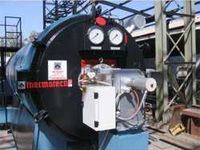 We offer a wide range of Thermic Heater-Gas Oil/Fired Burner which is available in different capacities. Due to their high performance and efficiency these machines are used in various industrial for different applications. These burners are highly durable and consume less energy and are easy to maintain. They are widely appreciated for its accurate dimensions, sturdiness and long working life. These burners are most reliable and very safe to use. Clients can avail these at affordable prices.
G

enerators,Boilers & Burners
T

estimonials

"Our clients can avail from us high quality range of Packaged Smoke/Fuel Tube Boilers (IFB & AOF) which are widely used in various industrial applications."